Our prayer is that you will be blessed and strengthened by the power of Jesus Christ and that you will live a life of abundance in fellowship with the Lord. Our hearts' desire is for you to be filled with the inner joy that only serving God brings and that you enjoy the liberty our Savior offers. Lock Haven Baptist, a church built on the solid fundamentals of Bible doctrine, strongly stands for the fellowship of believers who are united with a common goal to boldly declare the glory of the Lord and to celebrate Jesus as King. We study the Word together, do our best to practice what we learn, and in the process, grow in grace as a team. We consider it a privilege to share the gospel of our Lord Jesus Christ with the Boggy Creek community (our Jerusalem), Southeast Orlando (our Judea), the United States of America (our Samaria), and the uttermost parts of the world. May God richly bless you!
Schedule of Services
Sunday:
Sunday School~10:00 am
Spanish Service~ 10:00 am
Morning Worship~11:00 am
Evening Service~6:30 pm
Wednesday:
Kids Club 6:30 am
Youth Zone 6:30 pm
RSVP for FREE ADMISSION!!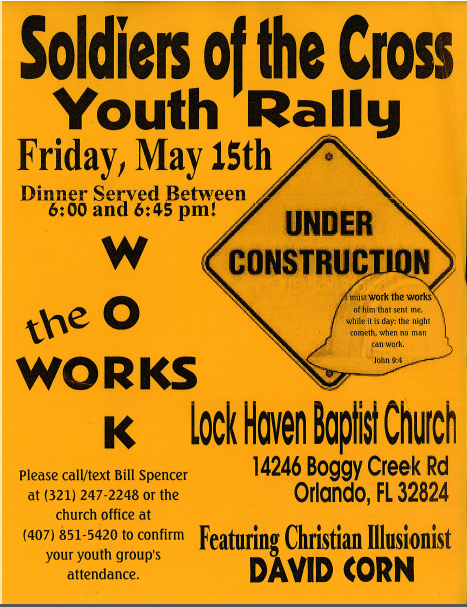 RSVP for FREE ADMISSION!!